Join us this Friday for the Republic Bank First Friday Hop in Downtown Louisville 8/2
The Republic Bank First Friday Hop is the first Friday of every month when all the galleries stay open late to hold gallery openings to kick off the month. The Hop is free and all-ages friendly. Much of The Hop is also dog-friendly, so get on your walking shoes and come out to hike The Hop with us. The Hop is an all-day event that happens primarily along the path of the free Downtown Louisville circulator — the LouLift — where you can hop on and off from Nulu to Museum Row to South 4th Street all day. After 6pm enjoy free parking at all on-street meters all night. There are over 50 events in Downtown Louisville every First Friday. Head over to the website firstfridayhop.com for the full list and be sure to go see our featured events!
Featured Events on August 2nd:
In the Hot Seat Poetry Circle at KMAC Museum
As an extension of In the Hot Seat, KMAC Museum invites you to share original poetry inspired by the exhibition's themes during August's First Friday Hop. Participants will sit in a circle of chairs and take turns reading work related to: Domesticity. Family. Personal. History. Power. Transformation.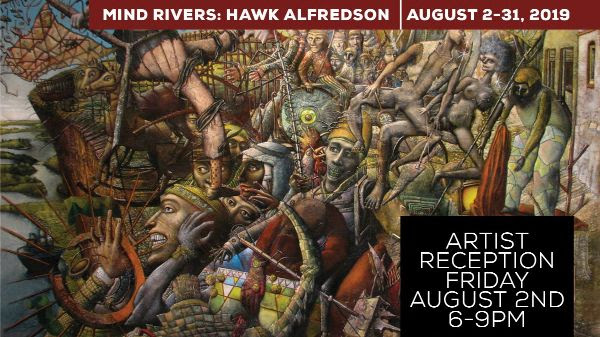 MIND RIVERS: HAWK ALFREDSON at Craft(s) Gallery & Mercantile
Kentucky's first solo showing of the work of Hawk Alfredson. Living outside his native homeland of Sweden for over two decades, Hawk has maintained an unmistakable Northern-European quality to the tone and technique imbibed within his paintings.
Change of Pace at Tim Faulkner Gallery
This exhibition will present new "studio" created work from a handful of acclaimed US graffiti writers exploring the difference of creating work in a studio setting rather than on the streets. These artists will demonstrate both their level of talent & ability as well as highlight their individual styles in an accessible cohesive show.
Slow Remembrance: A Photography Showing by April Martin
The slow remembrance of something long forgotten. That is the emotion that is being invoked when we look at the images created by April Martin. Finding the extraordinary in the ordinary is one of the key elements of her work and much like those before she captures the stolen moments…
ALT at Revelry Gallery
The artists have picked eclectic materials such as books, Exacto blades, origami, straws and more. Each piece will be a unique sculptural or two-dimensional work made from unexpected materials that have a purpose or a message to the overall concept.
Heat – Letitia Quesenberry Hosted by Quappi Projects
Letitia Quesenberry's (((heat))) opens Friday, August 2 with layering techniques of semitransparent materials to create objects that are both static and full of unpredictable motion; as a result, her work hypnotizes, mesmerizes, and enthralls.
"dunno it's painterly"
Suann Childers, Tim Crowder, Angie Reed Garner, Joyce Garner, Will Garner, MaLynda Poulsen, Wendi Smith — Seven gallery artists with more than paintbrushes in common at garner narrative contemporary fine art.
Cardinal Moments
Through August 10th,  Curated by Nathan Hendrickson and Thaniel ion Lee
Swanson Contemporary to Present Cardinal Moments, an Exhibition Examining Regional Artists on the Periphery from Found to Folk.
"Perspectives Of Home"  at 1619 Flux
Make 1619 Flux: Art + Activism one of your stops tonight during the Hop! Gallery will be open from 5pm to 8pm, so come out, enjoy free snacks and drinks, and the exhibition "Perspectives Of Home"!
Meet the Galt House Artist in Residence: Gibbs Rounsavall
Hosted by Galt House Hotel
Meet the Galt House Hotel 2019 Artist in Residence at work in his studio on the Republic Bank First Friday Hop.
G 2 Conrad Frye: 20 Year Retrospective
Join us for the opening reception of our latest gallery exhibition, featuring the art of Conrad Frye. This exhibition features over 20 years of Frye's digital Abstract Expressionism, brought to life on Chromaluxe Aluminum panels. This show will be on display from August 2 – 30, 2019.
The Petals of Abundance Art Exhibition by Constanza Granados Rueda at Wayside Expressions Gallery
This artistic work has been realized from the heart and depths of my soul. Each word, each feeling, each tiny moment that has touched my life has been transformed by the joining of brush, paint, canvas…
Kentuckiana Pride Foundation and FEVA proudly present "(Never) Meant to Survive," a portrait series honoring LGBTQ Activists and Icons. The installation includes 13 recreated historical photos of figures including James Baldwin, Marsha P. Johnson, Audre Lorde, Edie Windsor, Sylvia Rivera, Harvey Milk and more, utilizing similarly identifying local Queer folk as models at Regalo on South 4th Street.
Regalo 562 S 4th St Louisville, Kentucky 40202
"A Map of Scents" at Moremen Gallery

Painted with the restraint of a poet's eye but filled with singular colors that reveal mood and emotions, these paintings are an exercise in spareness as well as a comprehensive representation of Brooks' artistic conceptions.
Unexpected, infectious, idiosyncratic, and fun, featuring; Suzi Zimmerer, Juli Edberg, Nancy Currier, and Keith Kleespies at PYRO – that's ZECK. Opening Aug 2, 6-9 pm
More events on the August 2nd Republic Bank First Friday Hop